I'm a family physician at a community health center and I see this every day.  Almost all of my patients are overweight, and half of them are obese.  They come to me with diabetes, high blood pressure, heart disease, out of shape and out of breath, severe swelling in their feet and legs, skin ulcers from inactivity, and significant pain from their spine through their feet due to carrying the weight of a whole extra person around with them all the time, and the degenerative arthritis that comes from that.  They suffer from poor self esteem, hopelessness, and frustration with not being able to do the things they want to do…go fishing with their friends, play with their kids at the park, walk around the grocery store without sitting down.  They suffer physically and emotionally and feel excluded from life and powerless to change.  It doesn't have to be this way.
Let's take a brief intermission for facts, because blogs without externally verifiable facts should be viewed with suspicion.  Then continue below:
> The World Health Organization defines obesity as "a condition of abnormal or excessive fat accumulation in adipose tissue, to the extent that health may be impaired" (WHO, 1998).
> 300,000 Americans die each year from obesity-related causes.  
> This is not just a problem in America or the rich countries of the world.  The Food and Agriculture Organization (FAO) wrote on "The developing world's new burden: obesity" (https://www.fao.org/focus/e/obesity/obes2.htm)
Here's one of the best documentaries I've seen on the topic: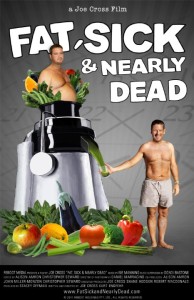 Or you click here to watch a 9:00 minute summary of why a hunger advocacy organization like 25 in Change cares about obesity:
Lastly, here's a great article that connects our fast paced lives, fast food, and obesity:
It doesn't have to be this way.  I joined 25 in Change because I was tired of the broken record saying that fat people have low will power and poor people are poor because of the choices they made.  25 in Change is standing with hungry people, which includes the overweight and obese who are driven to eat for reasons as powerful as starvation (hang tight for upcoming blogs about food addiction, emotional eating, food and friends and other interesting topics), and we are pointing to a better way.  Change the way we eat, change the way we think, and change the way we live.  We can leverage our voice, vote with our wallets, talk to our politicians and our restaurant owners and dramatically alter the course of our food system.  Our food environment is toxic.  If you want to change that, join us now by becoming a Partner, donating $25 so we Advocates and 100 hungry kids can eat, giving up fast food for 25 days, and see what happens.  If you want to go to the next level, then join us at an upcoming event or apply to be an Advocate in the next round.  We can do this together.   
So, whether you eat or drink, or whatever you do, do all to the glory of God